Nandos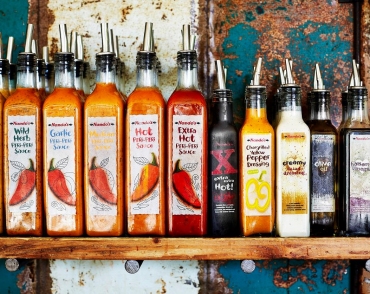 Nandos
Nando's have become extremely popular as a result of their legendary Peri-Peri sauce!
Keep things simple with just a hint of spice, or ramp up the heat to the max if you are a full blown chilli enthusiast. With these two extremes and everything in between, there is sure to be something for you. Whatever your tolerance to heat, customise your meal so you get exactly what you want!
The quality of the ingredients used at Nando's is top notch. The fresh chicken is grilled over an open flame, leaving virtually no fat. After 24 hours of marinating, you're left with an incredibly tasty portion of chicken without the deep-fried guilt! Further customise your dish with a plentiful choice of sides, and wash it all down with your choice of fizzy drink in a bottomless cup!
From beanie burgers, to portobello mushroom & grilled halloumi wraps, Nando's still have plenty of options for vegetarians; no one need miss out on the universal love for Peri-Peri!
There is no better excuse for good quality, delicious food then a trip to Nandos, it really is the perfect place to visit with friends, your partner or the whole family. Enjoy your meal, soaking up the relaxed but very authentic atmosphere with the Africana art wall decorations. The restaurant here at East Gate, with the enticing aroma of peri-peri lingering at the entrance, is sure to draw you in!
---
Opening Hours
Mon – Thurs: 10am – 10pm
Fri - Sat: 10am – 10:30pm
Sun: 11.00 - 22.00
---
Contact